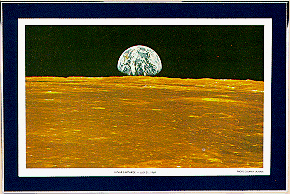 "Lunar Earthrise - July 1969"
...a magnificent view of earth rising over the lunar surface photographed by the Astronauts during their 1969 Apollo 11 mission to the moon - 240,000 miles away. In addition to making it possible for us to see other worlds for the first time, the Space Age has also given us our first view of our own planet!
The big blue marble, Earth - the home planet of humanity - rises above the lunar feature Smyth's Sea, just barely visible from Earth as a flat lava bed, or mare, peeking over the extreme eastern edge of the Moon.
While Neil Armstrong and Buzz Aldrin became the first men to walk on the Moon, Michael Collins orbited it in the Apollo command module, the size of a walk-in clothes closet. Collins took this photograph with a 250mm lens on 70mm color-reversal film, only days after humans first set foot on the lunar surface.
One of the most popular of the 34" x 22" Full-Color Prints from Woodstock Products, this unique and beautiful print is suitable for permanent display. Every institution of learning and curious mind should have this historical series of space photographs. Fill out the coupon and order several for yourself, your students and your friends TODAY!
---
"About a year and a half ago we purchased 'Earth Rise' for display in one of the buildings we occupy. Someone seemed to enjoy it so much it was stolen." - F.F., Penn State Univ., University Park, PA
---
To see a list of our Full-Color prints, see our Products Page.
To view some comments from our customers, check out our Testimonial Page.
For an overview of our Web Site, go to the Table of Contents.
To search our entire Web Site for any text, go to the Text Search Page.
To place an order or receive a brochure, go to our Order Form.
---
Woodstock Products Inc.
P.O. Box 2519
Beverly Hills, CA 90213-2519
323-650-6602
info@WoodstockProd.com