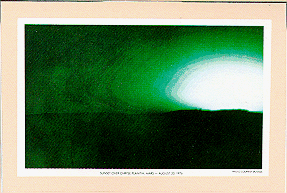 "Sunset over Chryse Planitia, Mars - August 20, 1976"
The historic 1976 landing of NASA's Viking 1 on the distant surface of Mars has given man one of history's most profound photographs - a time-lapse photo of a Martian Sunset! - over Chryse Planitia - the Plains of Gold - in the northern hemisphere of Mars. The current NASA Mars Pathfinder mission with Sojourner, and the Jet Propulsion Laboratory (JPL) scientists will find it difficult to top this classic Martian photo!
Early in the mission when it became clear that there was a large amount of scattering particles in the lower atmosphere, the scientists in charge realized the potentially dramatic appeal of low-Sun pictures. After several weeks of serious scientific photography, documenting the Martian landscape with high-resolution and color images, the team relaxed to the point of attempting exotic pictures. The result was this now-classic photo recording the last fading light on the red surface of Mars. The sun was 2° below the horizon.
The weather for an average day on Mars will be a low of -120° F at night rising to a high of -20° F in the afternoon, all under a pink sky - not blue - caused by fine suspended particles of red dust.from the iron-rich clay soil. Mars thin air (1/100th that of Earth) usually has light winds of about 15 miles per hour, although during the Viking lander's six-year stay on Mars, it endured several major windstorms, with Martian winds reaching 60 mph at the site.
This was the photo that started it all - Woodstock Products' very first print. If you love sunsets, wait until you see this beautiful Martian Sunset displayed on your very own wall! Order your copy of this modern classic... "Sunset over Chryse Planitia, Mars - August 20, 1976".
---
"The Martian Sunset and Earth Rise are the most beautiful pictures that I have ever laid eyeballs on. I eagerly await your future pictures." - E.O.G., Portland, OR
---
To see a list of our Full-Color prints, see our Products Page.
To view some comments from our customers, check out our Testimonial Page.
For an overview of our Web Site, go to the Table of Contents.
To search our entire Web Site for any text, go to the Text Search Page.
To place an order or receive a brochure, go to our Order Form.
---
Woodstock Products Inc.
P.O. Box 2519
Beverly Hills, CA 90213-2519
323-650-6602
info@WoodstockProd.com